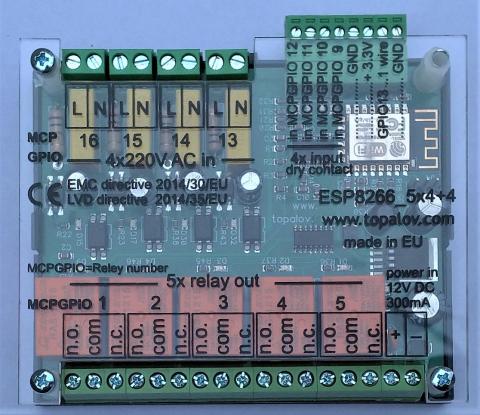 Price:
192 BGN
The ESP8266_5x4+4 module is WiFi, designed for DIN mounting, compatible with the ESP Easy firmware, with integration for HOME ASSISTANT.
The communication to the Home assistant is through the MQTT protocol.
Supports 5 relay outputs SPDT, + 4 inputs 220V AC - yes / no 220V AC, + 4 inputs dry contact type, active level is a connection to ground.
These inputs and outputs are visible as GPIO 1-16 of the MCP23017.
The dry contact inputs have pull-up resistors 5.1k and a series LED to 3.3V.
GPIO13 - 1wire terminal has a pull-up resistor 4.7k to 3.3V.
The module is available with uploaded firmware for ESP8266, free, which is not subject to commercial relationships; the price includes only the hardware.
Any other ESP8266 firmware can be uploaded.
dimensions: DIN, x = 105 mm, y = 86 mm
The module is powered by 12 V DC, 300 mA.
Availability:
In Stock
Files:

ESP8266 5x4+4.pdf

ESP8266 5x4+4r.pdf