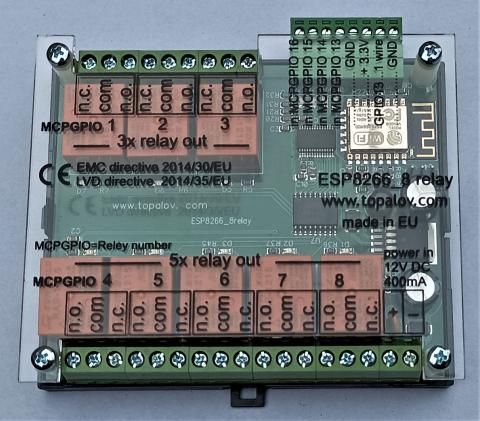 Price:
180 BGN
The ESP8266_8 relay module is WiFi, designed for DIN mounting, compatible with the ESP Easy firmware, with integration for HOME ASSISTANT. The communication to the Home assistant is through the MQTT
protocol. Supports 5 relay outputs SPDT, + 4 inputs dry contact type, active level is a connection to ground.
These inputs and outputs are visible as GPIO 1-16 of the MCP23017.
The dry contact inputs have pull-up resistors 5.1k and a series LED to 3.3V.
GPIO13 - 1wire terminal has a pull-up resistor 4.7k to 3.3V.
The module is available with uploaded firmware for ESP8266, free, which is not subject to commercial relationships; the price includes only the hardware. Any other ESP8266 firmware can be uploaded.
dimensions: DIN, x = 105 mm, y = 86 mm The module is powered by 12 V DC, 400 mA.
Availability:
In Stock
Files:

ESP8266 8 REALAY.pdf

ESP8266 8 relay.pdf